Part#: TAM61028
1/48 A-10 Thunderbolt II
Description:
This is a Plastic 1/48 A-10A Thunderbolt II Airplane from Tamiya.

FEATURES:
Period of Service: 1972 - present; served in Gulf War.
Twin turbofan engine, twin tail, single seat attack aircraft.
Highly detailed 1/48th scale plastic kit for static display.
Markings included for 5 different aircraft.
Appx. 150 parts in olive green and clear with fine recessed panel lines.
Complete weapon load including: (6) AGM-65 Maverick, (1) GBU-8, (1). GBU-10, (6) Mk.82 500lb bombs, (1) Mk.20 bomb, and (1) ALQ-119 pod.
Cockpit detail includes instrument panel with decal for instrument faces and side consoles, 4 part ejection seat, and seated pilot.
Detailed nose and main landing gear, wheel wells, and boarding steps.
30mm Gatling gun capable of 2100-4200 rounds per minute, 10 hard-points for 16,000lbs of ordnance, and titanium armoured cockpit.

MARKING OPTIONS:
Single sheet of decals contains aircraft code letters, serial numbers, national insignia, stencils, and cockpit instruments for five aircraft:
1: 23rd TFW, 76th TFS, England AFB, LA. Overall: 3 tone Black/Dk Green/Med Green camouflage.
2: 354th TFW, 355th TFS, Myrtle Beach AFB, SC.
3: 354th TFW, 356th TFS, Myrtle Beach AFB, SC.
4: 354th TFW, 353rd TFS, Myrtle Beach AFB, SC.
5: 81st TFW, 511th TFS, Bentwaters AFB, England.2,3,4,& 5 Overall: Same as 1
Additional paints Required:
Flat Colors: Black, Yellow Green, Aluminum, Sky Grey, Deep Green, Khaki, Khaki Drab, Metallic Grey, Olive Green, Dark Green, Olive Drab.
Gloss Colors: Gun Metal, Silver, Gold, Sky Blue, Clear Blue, Clear Red.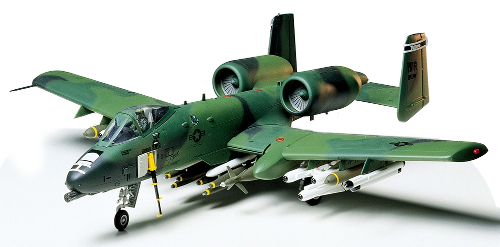 Our Price:

$40.99