Part#: TAM78012
1:350 USS DD445 FLETCHER
Description:
This is a 1:350 Scale Plastic U.S. Navy DD445 Fletcher Destroyer from Tamiya.
The Fletcher class, with over 175 produced, was the U.S. Navy's most
widely used destroyer type and one of the most successful during the WWII
period. The ships displaced 2,050 tons and had an overall length of 376' 6".
Fletcher class destroyers were powered by twin 30,000hp turbines which gave a
top speed of 35 knots. Finally, Fletchers were supremely adaptable and several
remained in service into the 1970's - a career of over 30 years. DD445 U.S.S.
Fletcher was herself retired in 1969.

FEATURES: Detailed 1/350th scale for static display only.
Markings included for 4 different destroyers with the early curved
bridge.
About 180 parts in light grey with fine raised and engraved detail.
Accurately reproduced 12.7mm main gun turrets which can be made to
rotate.
Single piece hull and one piece main deck.
Detailed bridge with movable radar antenna.
Detailed funnels, masts, depth charge racks, lifeboats, and
superstructure.
A simple plastic display base in also included.

MARKING
OPTIONS: Single sheet of decals with US Navy ensign and 4 sets of numbers for
DD's 445, 446, 447, and 448. All ships may be painted with the
same scheme but since US Navy camouflage practices changed during
WWII, check references to be sure of its accuracy for any
particular ship.
Hull above waterline and superstructure: Neutral Grey, Sea Blue, &
Dk Grey.
Camouflage; Waterline: Black; Hull below waterline: Red; Deck: Blue.
Additional Paints Required:
Flat: Black, White, Red, Aluminum.
Gloss Colors: Silver, Gun Metal, Gold.

INCLUDES: One 1/350 U.S. Navy DD445 Fletcher Destroyer

REQUIRES: Assembly
Hobby Knife
Paint: (see MARKING OPTIONS)
Brushes
Sandpaper
Cement for plastics
Nice-to-have tools: Needle File Set, Sprue Cutter, Airbrush and
Accessories

SPECS; Scale: 1/350
Length: 13" (32.8cm)
Beam: 13-3/4" (35cm)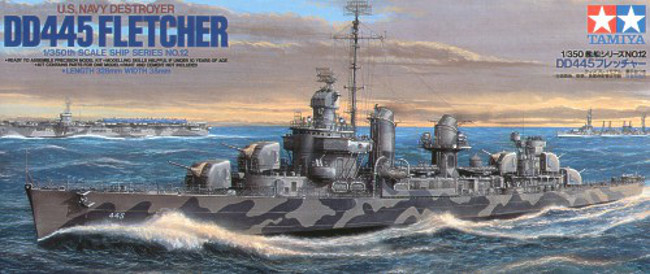 Shipping cost will vary by dimensions or weight please call or email for shipping quotes.
Our Price:

$37.79