Part#: PRB08015
Pro Boat Stealthwake 23 Deep-V RTR Boat w/Pro Boat 2.4GHz
Description:
The Pro Boat Stealthwake 23 Deep-V can easily blend in with the crowd, yet at a moments notice will strike fear into the heart of its adversaries. When the mission calls for speed, precision, and style - the Stealthwake 23 is a perfect addition to your arsenal. Armed with an under-the-radar matte black and orange finish and a lethally efficient 550-size motor, the Stealthwake 23 will eliminate your competition with speed and style that they will never see coming.
Pro Boat™ Steathwake™ 23 Brushed RTR Deep-V
Features:
Impressive, water-cooled 550 size motor
Dynamite® 7.4V 2400mAh NiMH Dynamite® battery and charger included
Pro Boat® 2.4GHz marine radio system for extended range and interference-free operation
Streamlined Deep-V hull made from durable ABS plastic
Boat stand included
60A Li-Po ready ESC
Whiplash inducing trim scheme and design
Waterproof electronics
Specifications:
Length: 23 in (584.2mm)
Beam: 7.12 in (180.8mm)
Motor Size: 550 size 15-Turn
Radio: ECX 2.4GHz Transmitter, 2-Channel V3
Speed Control: WP 60A FWD/REV Brushed ESC
Hull Material: ABS
Trim Scheme Colors: Matte
Prop Size: 1.6×2.5" Plastic
Hull Type: V-Hull
Battery: 6–7C (7.2–8.4V) NiMH or 2S (7.4V) LiPo recommended
Kit/RTR: RTR
Scale: 23-inch
Drive System: Driveshaft
Is Assembly Required: No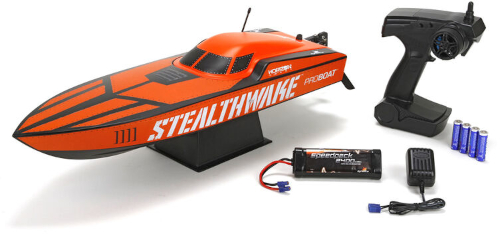 Due to the size and weight of boats, Flat Rate Shipping will not apply. Contact us for shipping quotes.
Our Price:

$199.99