ENGINE MOUNTS : HYDE CUSTOM SOFT MOUNTS
Hyde Soft Mounts
Hyde Soft Mounts are great for both sport and competition R/C flying because, unlike other mounts
they don't rob your engine of horsepower. And that's just the beginning. By eliminating damaging vibration,
Hyde Mounts extend equipment life considerably, extend run times of receiver batteries and reduce noise.
Hyde Mounts are used by an overwhelming majority of F3A NATS and World Class competition flyers
providing millions of vibration maintenance free flights and have been in the winners circle over 2000 times.
Winners of many F3A, Pattern, Giant Scale, TOC, IMAC, and Racing Events have unanimously credited
Hyde Mount reliability. Many Hyde Mounts are performing flawlessly with original isolator rubber and
bonding even after 5000 flights.
For applications not listed below, please contact: hydemdh@yahoo.com or 702-269-7829 for specs.,
dimensions, performance ratings, recommendations, etc. for over 600 types and sizes of "tractor"
and "pusher" mounts for engines up to 26cu. in/433cc, including electrics.
***What is CDR?
CDR stands for percentage of Current Drain Reduction of the receiver / servo battery system (does not
apply to motor run batteries in electric powered systems), same percentage results are obtained as when
vibration forces are measured and compared at the source (motor) and body (airframe) with an accelerometer.
For normal control surface activation using batteries/servos, as in a typical model aircraft, the average CDR
benefits are:
35% CDR extends flight time per charge considerably- extends major equipment life,
including airframe, 4-8 times.

60-70% CDR approximately doubles flight time per charge- extends major equipment life
10-15 times.

80-85% CDR approximately triples flight time per charge and extends major airborne equipment
life 20-50 times.
Universal Hyde Mounts CDR ratings are established when tested with popular YS DZ160/175 engines.
Performance may vary slightly when used with other 1.2 thru 2.0 cu. in. engines and various airframe
construction materials.
The designer of Hyde mounts has over 35 years of vibration affects experience with powered model aircraft.
Typical equipment life, including: servos, pots, gears, linkage, and airframe is approximately 25 to 75 flights
when hard mounted with a high power to weight ratio engine and aircraft-i.e average equipment life is around
50 flights. Some aircraft and equipment has remained in excellent condition after 3000 flights when using a
Hyde Mount-this result is an extension of equipment life by 60 times-try to put a dollar value on this benefit!!!!
Also, one specific Hyde Soft Mount remains in excellent condition after 7000 flights (1200 hours) - this mount
is now retired and being studied by a vibration engineering department laboratory at a major university.
The rubber: volume, dimensions, distribution, tensioning, and bonding, are the success ingredients of a
Hyde Mount.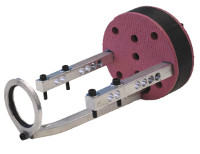 Part#: HCMLRI80
HYDE MOUNT FOR CDI
Description:
HYDE MOUNT FOR CDI W/NOSE RING.
Our Price:

$199.95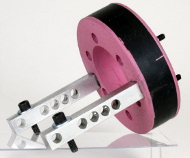 Part#: HCMY160ARA
HYDE MOUNT YS160 /170 ARA
Description:
THIS IS A DISCONTINUED ITEM, LIMITED QUANTITY AVAILABLE

Our Price:

$144.99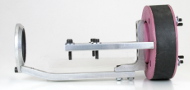 Part#: HCMY67RISA
HYDE MOUNT YS160/170 ARISA
Description:
THIS IS A DISCONTINUED ITEM, LIMITED QUANTITY AVAILABLE
Our Price:

$279.95