Part#: MSW2260
Model Shipways Syren Brig
Description:
SYREN, US BRIG 1803 by Model Shipways
Plank-on-Bulkhead Kit
USS Syren, a 240-ton brig, was built by Nathaniel Hutton at Philadelphia in 1803. On September 27th, she set sail for Gibraltar under the command of Lt. Charles Stewart. Syren cruised the Mediterranean during the spring and summer of 1804 and participated in the attacks on Tripoli. She remained there for almost a year after the peace treaty with Tripoli was signed on June 10, 1805. Departing Gibraltar
on May 28 of 1806, she reached the Washington Navy Yard in early August, where she was laid up until her reactivation in 1807. During her service in the War of 1812, she was captured by the 74-gun HMS Medway after an 11-hour chase.
Designed by master modeler Chuck Passaro, Model Shipways' kit is authentic to the last detail. Basswood keel and bulkheads are laser cut for easy assembly, and framing templates help you build a perfect hull.
We supply several sizes of basswood strips for deck and hull planking, plus self-adhesive copper tape for plating the hull below the waterline. An abundant fittings package includes photo-etched brass detailing, brass eyebolts, belaying pins, nails, gudgeons and pintles, over 200 wooden blocks and deadeyes, gratings, plus dowels for masts and spars. Several sizes of tan and black rigging line, netting, printed flags and grating are supplied as well. Armament consists of 16 precision-cast Britannia metal carronades and two long guns on wooden trucks. The model carries a ship's longboat that's a mini-kit in itself. Actual sized plans are on 8 sheets, and 140-page spiral bound instruction manual shows all stages of construction.
Length 33" • Height 27" • Scale 3/16 (1:64)
Difficulty Rating: Advanced Level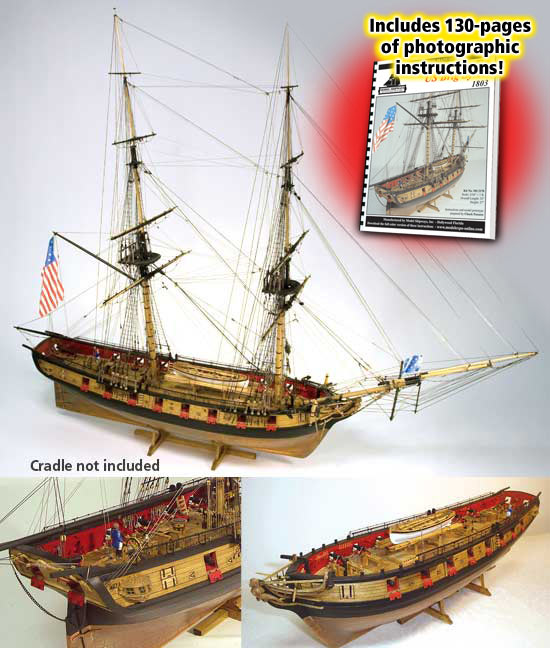 Shipping cost will vary by dimensions and or weight please call or email for shipping quotes.
Our Price:

$249.99