Part#: MTH2091683
MTH O Scale Premier Extended Vision Caboose
Description:
Before railroads, "caboose" referred to a small cookhouse on the deck of a sailing ship. Nobody knows for sure, but it was likely the 1850s before the first railroad caboose gave a train crew shelter from the weather. The Civil War era marked the emergence of boxcarlike cabin cars or conductor's cars with side and perhaps end doors, windows, a heating and cooking stove, bunks, and roof lanterns to mark the end of the train.
Management often resisted providing such creature comforts to crews, and it would be well into the 1870s before cabooses were widespread on American trains. And although the cupola, known then as a "lookout" or "observatory," first appeared during the Civil War era, flat-roofed cabooses outnumbered cabin cars with cupolas well into the 1880s. By the early 20th century, however, the cupola caboose had attained its final shape, one it would keep until cabooses became extinct in the 1980s.
But while cupola cabooses remained pretty much the same, the freight cars in front of them were changing, becoming ever longer and taller as well. By the end of World War II, taller cars were making it harder and harder for the crewman riding the cupola to do his job: keep an eye on the train ahead. One solution, of course, was the bay window caboose. Another, more popular innovation was the extended vision, or wide vision caboose, which combined the extra width of a bay window with the height advantage of a cupola. Our model depicts the extended vision caboose introduced by International Car Company in 1953 and produced for two decades, which was rostered by railroads from coast to coast. Like diesels and other modern freight cars, this widely owned caboose was part of the postwar shift away from customized, railroad-specific locos and cars toward standardized designs produced in large quantities on efficient assembly lines.
MTH Premier O Scale freight cars are the perfect complement to any manufacturer's scale proportioned O Gauge locomotives. Whether you prefer to purchase cars separately or assemble a unit train, MTH Premier Rolling Stock has the cars for you in a variety of car types and paint schemes.
Virtually every sturdy car is offered in two car numbers which makes it even easier than ever to combine them into a mult-car consist. Many of MTH's Premier Rolling Stock offerings can also operate on the tightest O Gauge curves giving them even more added versatitlity to your layout.
Intricately Detailed, Durable ABS Body
Stamped Metal Floors
Detailed Car Interior
Metal Wheels and Axles
Die-Cast 4-Wheel Trucks
Fast-Angle Wheel Sets
Needle-Point Axles
(2) Operating Die-Cast Metal Couplers
O Scale Kadee-Compatible Coupler Mounting Pads
Caboose Interiors With Overhead Lighting
Detailed Brake Wheel
Separate Metal Handrails
Brakeman Figure
1:48 Scale Dimensions
Unit Measures: 10 3/4" x 2 3/4" x 4"
Operates On O-31 Curves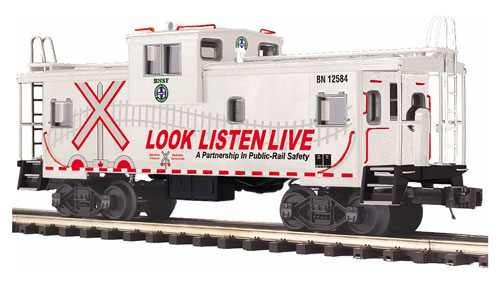 Our Price:

$74.95