Part#: EFL37000
Apprentice STS 1.5m RTF Smart Trainer with SAFE
Description:
E-flite® took the world's favorite club trainer and made it SMARTER with the Apprentice® STS 1.5m. Based on one of the very best platforms ever designed for learning to fly radio controlled (RC) airplanes, its large size and 1.5 meter (59.0 inch) wingspan offers better visibility and the ability to handle more wind while learning to fly at an RC club flying field. Its inherently stable design plus SAFE® (Sensor Assisted Flight Envelope) technology featuring Beginner, Intermediate and Experienced flight modes makes it easy to fly successfully, especially with the help of an instructor. The addition of exclusive Spektrum™ Smart components including a lithium polymer (LiPo) battery and charger make it more convenient to charge properly and safely (battery and charger sold separately for the BNF® Basic version). And best of all it now has the option to upgrade to SAFE Plus GPS-enabled technology that offers features such as AutoLand and Virtual Fence, plus the option to install the all-new Landing Assist Sensor (LAS) that automatically "flares" for smoother landings, to make learning to fly—and to land safely—easier than ever!
The Ready-To-Fly (RTF) version includes everything needed to fly in one box, and is the perfect choice if you're a new RC pilot. From the Spektrum DXe 2.4GHz transmitter you can use with other Bind-N-Fly® (BNF) and BNF Basic aircraft after you learn to fly the Apprentice STS, to the 3S 3200mAh Smart LiPo battery that delivers long flight times and the convenient S120 USB-C Smart charger that can be used with a variety of USB power sources, there's nothing extra you need to buy or provide! A BNF Basic version is also available for experienced pilots and clubs that want to use their favorite Spektrum transmitter along with batteries and chargers they may already own. And for both versions, the powerful and efficient brushless power system including a Smart ESC, plus the flight controller, receiver and servos, are all factory-installed in the durable EPO airframe that assembles quickly and easily without the need for glue or special tools.
And the fun doesn't stop after you learn how to fly! In the Experienced Mode, the Apprentice STS 1.5m is capable of performing aerobatic maneuvers including loops, rolls, inverted (upside down) flight and more. You can even install the optional floats to take off from and land on water.
The Apprentice STS 1.5m is the smartest and best club trainer ever, and that makes it perfect for first-time pilots, experienced pilots that teach others to fly, and for club training programs alike. That's why it's the Official Trainer of the Academy of Model Aeronautics (AMA) and the best choice for new pilots seeking a larger trainer that makes it easier to progress into more advanced RC airplanes!
What's in the Box?
(1) E-flite Apprentice STS 1.5m with:

(1) Brushless Outrunner Motor (installed)
(1) Smart 30A Brushless ESC (installed)
(2) 13-gram Digital and (4) 37-gram Servos (installed)
(1) Spektrum 3230 Flight Controller (installed)
(1) Spektrum 4650 Serial Receiver (installed)

(1) Spektrum DXe DSMX® 2.4GHz Transmitter
(1) Spektrum 3200mAh 3S 11.1V Smart LiPo Battery
(1) Spektrum S120 USB-C Smart Charger
(1) Product Manual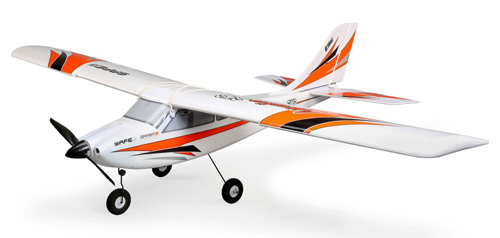 Shipping cost will vary by dimensions or weight please call or email for shipping quotes.
Our Price:

$399.99